How Yoga Can Help Runners
Did you know that at least fifty to sixty-five percent of runners get injured each year? Whether these are small or larger injuries, runners are prone to getting hurt, caused by the constant pressure and force that their bodies take during the exercise.
Did you know that Molly Huddle, an olympic runner and marathoner, uses yoga as part of her fitness routine? In fact, many famous athletes, such as LeBron James, Torrey Smith, and Shaquille O'Neil, also have their own yoga practices. Now, think about just how much running these athletes do on a daily basis. If they find yoga to be helpful, imagine how it can help you and your running!
Yoga is great for increasing flexibility, balance, endurance, and even strength. These are all things that the body requires when running, making yoga a helpful practice for runners everywhere.
In addition, as we now know, runners are prone to injuries, and yoga can help to relieve stress and pain from the body while increasing one's motion and movement capabilities. Yoga can increase strength in the core and the legs, both of which are essential for running.
Yoga also helps to relieve cortisol from the body as well as oxidative stress due to proper use of breathing exercises. Yoga can also help to lower blood pressure in some individuals.
With all of this in mind, it is easy to see why yoga is so helpful for runners everywhere, and how it can even improve your running abilities overall.
Remember that yoga is never a replacement for medical treatment, and you should always listen to your doctor first and foremost.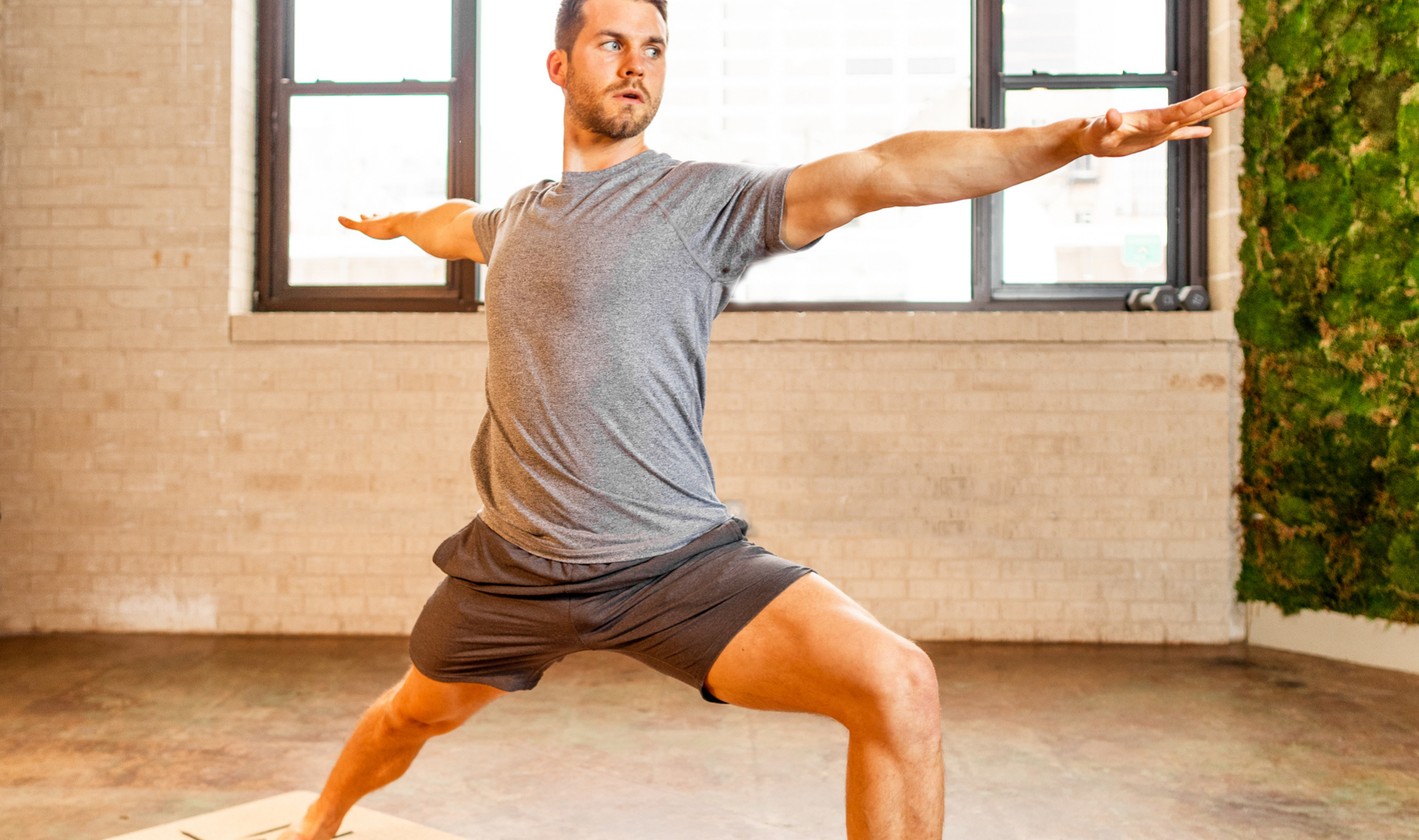 Anatomy of Runners and Common Challenges
Runners have to be careful not to get hurt because it can be easy to do so. Runners are prone to injuries, especially in the lower body and the joints, and many often experience issues with knees, hips, ankles, and hamstrings. A lot of injuries are due to running on hard surfaces, or overusing muscles and bones.
On top of these bigger problems, runners can also have trouble with cramps, dehydration, breath control, sore muscles, and so much more. Runners can also experience ongoing back pain from overuse of the muscles and ligaments in the back when running. For those with less flexible muscles, this can happen more easily. This is also why having an ongoing yoga practice can help to decrease pain in the back as you train your muscles to be more flexible and durable.
Some of the most common running injuries include plantar's fasciitis, patellofemoral syndrome, achilles tendinopathy and tibial stress syndrome. (Lopes, et al.)
As you can see the majority of running injuries take place in the lower body. However, injuries to the back, pelvis, thighs, and hips make up about thirty percent of all running injuries. These are often caused by lack of core stability, making the body more sensitive to impact and pain. This is why it is important to have good stabilization while running, and this is something that yoga can help with. (Ryan, et al.)
If you suffer from back pain, checkout our Better Back Yoga here!
Yoga promotes core and hip stability while still stretching the muscles, ligaments, and tendons.
One study also examined injuries in runners based on their strike patterns, or where and how their feet make contact with the ground. For those who strike the ground with the backs of their feet, injuries are more likely than if they were to strike with the middle or front of their feet. The problem is that about ninety percent of runners strike with the backs of their feet! You can imagine why so many runners wind up getting injured. When striking with the backs of the feet, a person is likely to find that they have injuries in their knees, feet, ankles, and even hips. The joints can also be affected by the improper force. (Rogers, 2017)
Yoga can be helpful for those who use improper stance when running because it can reinforce awareness in the lower body and how one is using their feet. In yoga, a person has to be very aware of their stance and where they are putting their weight, otherwise, it is too easy to fall out of a pose. This is why balancing and stabilizing poses are so helpful for athletes who are constantly on their feet.
In addition, since many runners have suffered some kind of injury, they are also prone to scar tissue, making them less flexible and decreasing range of motion. Yoga helps to stretch out and break down this scar tissue.
Studies About Yoga for Runners
One study looked into the effect that yoga can have on runners and athletes. This study looked at two groups of athletes. One group received yoga for ten weeks while the other did not. The yoga group, at the end of the study, was shown to have better flexibility and balance while the other group did not have the same findings. These results are great in showing why yoga can be so helpful for those who do a lot of running. Runners require good balance and enough flexibility to keep their muscles safe and stable. (Polsgrove, et al.)
Oxidative stress and high cortisol levels can be seen often in runners and can cause long-term negative effects. Cortisol can prevent proper antioxidants, meaning the body is more likely to experience oxidative stress. One study looked into the correlation of yoga breathing and the reduction of oxidative stress. The study examined multiple athletes before a big event, studying the effects that diaphragmatic breathing can have in preventing antioxidants. Findings showed that levels of cortisol and oxidative stress were lowered when practicing these breathing techniques. (Matarelli, et al.)
Another study looked into common running injuries to understand the causes of them better. Over one hundred runners with lower extremity injuries were included in this study and were compared to a control group of runners without injuries. Both groups were monitored while running and the group with more injuries was shown to have more impact against the ground as they ran. (Johnson, et al.)
Running injuries are therefore more common in those who have more impact against their feet as they run. This puts more stress on the muscles and bones of the lower body, and the result is being more likely to have an injury.
How to Choose the Right Yoga Practice for Runners
How Often Should Runners do Yoga?
For runners who are new to yoga, it is best to keep one's practice to around two to three times a week. However, for those who are looking to practice more, you can do so as long as you keep in mind not to overdo it. Multiple intense yoga practices in addition to running might be a lot on the body, but restorative practices can be done more often in order to help with past injuries and increasing flexibility.
For some, vinyasa yoga is a great practice that links poses to the breath, flowing from one stretch to the next. This is a great workout, and more gentle versions of this practice can be done more often. If you are looking for a practice that offers more exercise, a more intense vinyasa practice, such as power yoga, might be a good option for you. However, most of our practices at Body By Yoga are a slow burn power yoga, allowing you to experience each pose and hold it for longer. Make sure to give yourself time to rest and restore, especially if you are running constantly on top of these classes.
The amount of yoga necessary will vary person to person. You might do a few yoga stretches every day to integrate into your fitness routine. In addition, practicing yoga breathing techniques daily can help to increase your endurance and capacity of the muscles in your lungs and diaphragm, making breathing while running easier.
Should Runners Do Yoga Before or After a Run?
When is the best time for runners to do yoga? Is it better to do yoga before going for a run or after? Does it make a difference?
Yoga can be done before or after running, however, the type of yoga done will vary depending on when you do it. If you are practicing yoga before a big run, you will want to keep it very gentle so that you do not over-extend any muscles before putting a ton of pressure and force on them during your run. Some restorative yoga or gentle seated stretches might be good during this time just to warm up the body. A gentle vinyasa practice is also a good option. Either way, make sure to keep your practice shorter and less intense before a run so that you do not expend all of your energy before the run begins. In addition, you don't want to stretch so much that you are overly flexible right before a run. This can actually decrease the speed of running if you do too much stretching right before hand. There is a balance to the right amount of flexibility that allows the ligaments and tendons to have more of a bounce when running. Poses with more stabilization and gentle stretching are best right before a big race. You can checkout some great stretches for warming up by clicking here.
Yoga is typically better right after running to help release tension and stress from the body. If you want to do yoga after a big run, restorative yoga would be best for cooling down. Gentle poses with deep stretches can be great for recovery. Breathing exercises can also help to relax and reset the body. Yoga after running is also a great way to help prevent sore muscles and strain within the body. When running, a person experiences a lot of force to the muscles of the core and lower extremities, and stretching these out after a practice can be very beneficial.
Checkout some post workout yoga poses for runners by clicking here!
5 Best Yoga Poses for Runners (With Modifications)
Let's take a look at five yoga poses that are helpful for runners. Keep in mind that there are many poses to choose from, but we are simply looking at five of the best ones for runners to try! We have also included modifications for each pose so that they are accessible to everyone.
1. Low Lunge– Begin on the hands and knees and step one foot forward, planting it between the hands with the front knee bent. From here, slide the back leg behind you, keeping the knee on the ground. You can then bring the hands up above you or, if this is too difficult, you can keep them on the ground or place them on a block. If this is still too hard to do, you can modify this pose by using a chair to hold onto. In addition, if you have suffered from knee injuries in the past and this is too much on the bottom knee, feel free to roll up a blanket to place beneath your knee. You can also bring the knee up and away from the ground into a high lunge if you are able to do so. Whichever version of this pose that you choose to do, make sure to do the same on the other side. Low lunges are great for strengthening and stabilizing the hips and hamstrings while also giving them a great stretch!
2. Lizard Pose– For this pose, start on the hands and knees and step one foot forward to the outside of your hands. You can then straighten the back leg behind you, keeping the top of the foot flat on the ground, and, if you can, bring the forearms to the ground. For runners who have tighter hips and hamstrings, this pose might be too intense. Luckily, there are some great modifications you can try. The first would be to bring a block outside of the legs to place your hands on, bringing the ground closer to you. You can also bend the back knee flexing the foot as you bring it up towards you. If this is too much on the knee, you can always place a pad or folded blanket beneath it. You also have the option to reach your hand (of the same side as the back foot) behind you and towards your foot, trying to grab onto it. This is a great stretch for the hips and hamstrings and also allows a twist for the muscles in the side and back of the body. This is also helpful for releasing pain in the back. If you can't reach your foot, feel free to use a strap here.
3. Figure Four Forward Fold– This stretch is wonderful for the glutes, hamstrings, and back of the body. This is great for runners with tight muscles. This pose is usually done by starting with the knees bent and bringing one foot up to fold it over the opposite thigh. Keeping the foot flexed, you would then carefully fold forwards over the folded leg for a deep stretch. For many, this pose is too hard to do and the muscles might be too tight, especially for runners who haven't practiced much before. One alternative to this pose would be to use one or two blocks to place the hands on. In addition, you can also use a chair here to hold onto with your hands to give you better support and balance.
4. Cow Face Arms– This is a fun pose that gives you a very deep stretch in the shoulders, allowing for better shoulder mobility. In addition, this is a great stretch for the auxiliary muscles. When doing this pose with just the upper body, you can start seated on your mat or sitting in a chair. If you were starting with the right side, you would bring your right arm straight up on an inhale and bend the elbow on an exhale to drop the forearm down the back. From here, there are a few options. For those who are very tight in the shoulders, you could simply bring your left hand to the right elbow to gently stretch it out. For the full pose, you would drop the left arm down by the side and bend the elbow to reach the hand towards the right one, trying to join them together. If you can't reach all the way, you can either hold onto your shirt with both hands or, for a modification, you can use a strap here between the hands to hold onto.
5. Reclining Big Toe Pose– This is a great stretch for the IT bands and helps to keep them flexible and protected. This pose is done while laying on the back. You would then reach towards the foot with your opposite hand and grab onto the toe. You could also turn the pose into a twist by gently bringing the leg towards the opposite side just a little bit until you feel a stretch, keeping the hips on the ground the whole time. Now, most people cannot easily reach the hand all the way to the foot here, so it is actually best for the majority of us to use a strap to loop around the foot instead. This can be seen in the video below.
Props for Modifications for Runners
If you are ready to begin your yoga practice, but you aren't sure which props are necessary, we highly recommend checking out our blocks and straps. We sell a variety of different blocks based on your needs, and our blocks are meant to have a better grip while practicing. Learn more about our blocks here!
Our straps are also very useful, especially for those who are new to yoga and need a bit of help reaching. Our straps are made out of one hundred percent cotton and are extra long, and they come with any set of blocks that you choose!
Best Body By Yoga Programs and Classes For Runners
We offer many classes and programs for you to choose from. Our programs offer resources for people of all abilities. When it comes to runners, we recommend checking out our Yoga Edge program. This yoga workout is aimed for athletes who are ready to try out some yoga. We highly recommend this program for runners. This yoga practice is great for those looking to strengthen ankles and knees, activate the muscles of your glutes, build core and lower back strength, improve range of motion, and increase flexibility and balance. You can see why Yoga Edge is such a wonderful program for runners. Check this program out here!
In addition, for those looking to work on building strength– which can be extremely useful for runners– we recommend checking out our Yoga Max 33 program. This program includes four challenging power yoga classes and is our hardest program yet. For runners and other athletes looking to strengthen muscles, this might be the program for you. Check out Yoga Max 33 here!
References:

Johnson, C. D., Tenforde, A. S., Outerleys, J., Reilly, J., & Davis, I. S. (2020). Impact-Related Ground Reaction Forces Are More Strongly Associated With Some Running Injuries Than Others. The American journal of sports medicine, 48(12), 3072–3080. https://doi.org/10.1177/0363546520950731
 
Lopes, A. D., Hespanhol Júnior, L. C., Yeung, S. S., & Costa, L. O. (2012). What are the main running-related musculoskeletal injuries? A Systematic Review. Sports medicine (Auckland, N.Z.), 42(10), 891–905. https://doi.org/10.1007/BF03262301

Martarelli, D., Cocchioni, M., Scuri, S., & Pompei, P. (2011, February 10). Diaphragmatic breathing reduces exercise-induced oxidative stress. Evidence-Based Complementary and Alternative Medicine. https://www.hindawi.com/journals/ecam/2011/932430/#discussion.  

Polsgrove, M. J., Eggleston, B. M., & Lockyer, R. J. (2016). Impact of 10-weeks of yoga practice on flexibility and balance of college athletes. International journal of yoga, 9(1), 27–34. https://doi.org/10.4103/0973-6131.171710 

Rogers, Jamie M. (2017) "Running Injuries Due to Strike Patterns" The Kabod 3( 2 (2017)), Article 7. Retrieved from https://digitalcommons.liberty.edu/kabod/vol3/iss2/7 

Ryan, E., Lopez, R., & Jacobs, P. (2013, February 22). Running injuries and core stability. CORE. Retrieved September 21, 2021, from https://core.ac.uk/display/46946539?recSetID=.